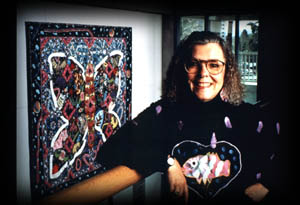 Artist Statement
My studio is in my house: I love having everything in one place: actually, my whole house is my studio-gallery. The walls are covered with art, and everywhere you look, there is some sign that art quilts are being made. I love the idea that "Home is where the Heart is" and I also feel that "Home is where the Art is". My Art is from my Heart, most definitely.
I also believe that art is for healing. Each and every one of us is creative. Each child is born with creativity. This is part of who we are. Each person is unique and capable of expressing something which reflects his/her own individual quality. There is a Creative Spiritual Energy which flows through us all, and which connects us all together. I believe that we can use this energy to create whatever we want to experience in life.
Some of the tools that I use for my creative expression are meditation, prayer, and journaling, drawing, and painting, quilt making, and working with clay. I truly believe that I am fed by Spirit when I do these things, and that over the years, my life has been transformed because of my creative and Spiritual practice.