BACKGROUND INFORMATION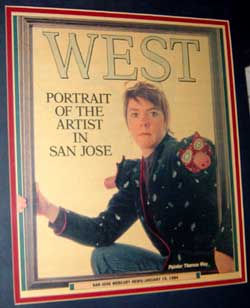 I was born in 1943 in Madison, Wisconsin. When I was five years old, I knew that I was an artist. I brought a drawing home from my kindergarten class and showed it to my parents. They said that it was beautiful and I believed them. All the way through my childhood, I kept on doing drawings, believing in my talent. I did other things, like embroidering, sewing, knitting and crocheting, also. My grandmother taught me many skills such as these. I used to stay at my grandmother's house for days at a time. I would watch as she did all sorts of domestic chores. She was very creative and intuitive, and her home was a delight to visit. She made clothes for all of her grandchildren. I watched as she made a dress for me. First she drew the pattern onto a piece of newspaper, and then proceeded from there! It was as if by magic! I loved the dresses she made for me. She also made mittens for all of her many grandchildren, just by looking at the particular hand and then knitting the mittens without a pattern. She put a string between the two mittens that went through the sleeves of a jacket so that the mittens would not get lost. I found her very inspiring.

When I was in junior high and high school, I began to learn how it felt to be recognized for my artwork. When I was in the seventh grade, I received an honorable mention in a citywide poster contest, and got my picture in the paper. Then I took 2nd place when I was in eighth grade and first place when I was in ninth grade. Being an artist was becoming my identity. All through high school, I kept up with my drawing and painting. For a while, I thought that I might want to become a fashion illustrator. That was when there were people who actually drew pictures that appeared in the newspaper of models wearing dresses from the various department stores. And, I thought that I might want to do actual fashion design-I designed and made some dresses and even wore them.

I graduated from high school in 1961 and that fall began in the art program at the University of Wisconsin. It never occurred to me to go into anything else but art. I focused mainly on painting. What was being offered was abstract expressionism. So, I learned to paint loosely. Actually there were other styles being taught, too, but I was attracted to and wanted to develop a style of painting that was like handwriting or calligraphy. I was also inspired to do paintings of animals, although I did not begin doing that until later.

I was married and had my first child, Ian, by 1965. We moved from Wisconsin to San Jose, California in 1967. My daughter, Bridget was born in 1968. I loved staying home with my children and doing art. This was the period in which I developed my art quilts. I have described much of this process in the section about the "Therese Quilt". I also worked on getting my Master's degree at San Jose State University.

In 1985, I received the "Most innovative Use of Medium Award" in Quilt National and in 1995, I received the "Quilts Japan Prize" in Quilt National. My work is published in numerous books and magazines including THE ART QUILT and AMERICA'S GLORIOUS QUILTS. I was commissioned in 1991 and 1992 to do two 14'x14' quilts for the San Jose Convention Center in California. In 1993, I made ornaments for the White House Christmas Tree. I have taught at Arrowmont School of Arts and Crafts, the Cleveland Institute of Art, Cabrillo College, UC Santa Cruz, Dept. of Art & Design, University of Minnesota Split Rock Arts Program, as well as for many quilt guilds.

Now, I have been making art quilts for 37 years, and I plan to continue to do so, because I love it! I would like to encourage everyone to get in touch with their creativity, because, we all have this innate quality in one way or another. Even if a person does not consider herself or himself an artist, there is still this creative spark, which is the source of all of our ideas. My work has always come from within me-there was always a feeling about something guiding me to do creative work. Over the years, I have developed a Spiritual practice, (meditating, praying, reading, writing), which has really helped me to keep believing in what I was doing. In the year 2000, I became a licensed Spiritual Counselor. Now, I am working on another Master's degree-this time I am training as a minister. I am interested in Spiritual healing through art.

I do yoga, ride my bike and walk. I like to spend time with my significant other, Larry, and, of course, I like to read books!